WUUX無象空间:同仁堂新物种知嘛健康概念店荣获金堂奖年度最佳零售空间设计
金堂奖·中国室内设计年度评选,2010年正式起航于北京,历经十年发展,已经成长为中国最具影响力的中国室内设计盛事和业界信赖和公认的品牌IP。发起人谢海涛提出的"设计创造价值"的主题,"为百万设计师呐喊、向千万业主传播"的使命,发出"公益、公正、独立、服务"的金堂奖宣言,持续引导金堂奖积极发展。
十年来,金堂奖影响力已全面覆盖中国五百万设计师人群,数十万设计师通过各种途径参与其中;金堂奖打造的80+全国运营机构参与的金堂奖全国联盟,成为业界最大的设计师服务系统和产业生态。
每一年的金堂奖盛典,尤其是最终的年度最佳颁奖典礼现场,总会带给人们很多期待和惊喜。或是诞生新的设计界明星,或是精彩绝伦的年度最佳设计作品令人脑洞大开,或是战略合作、专题活动推动设计产业服务价值更优。
Jintang Award, China Interior Design Annual Award, officially launched in Beijing in 2010. After ten years of development, Jintang Award has grown into the most influential Chinese interior design event and the brand IP trusted and recognized by the industry. With the theme of "Design creates value" and the mission of "Shouting for millions of designers and spreading to millions of owners", the initiator Xie Haitao has issued the Jintang Award Declaration of "Public Interest, Justice, Independence and Service", which has continuously guided the positive development of the Jintang Award.
In the past ten years, the influence of Jintang Award has fully covered five million Chinese designers, and hundreds of thousands of designers have participated in it through various ways. With the participation of more than 80 national operating agencies, Jintang Award has become the largest designer service system and industrial ecology in the industry.
Every year, the Golden Tang Awards, especially the final award ceremony of the year, brings many expectations and surprises. Or the birth of new stars in the design industry, or the wonderful design works of the year rich in imagination, or strategic cooperation, thematic activities to promote the design industry service value better.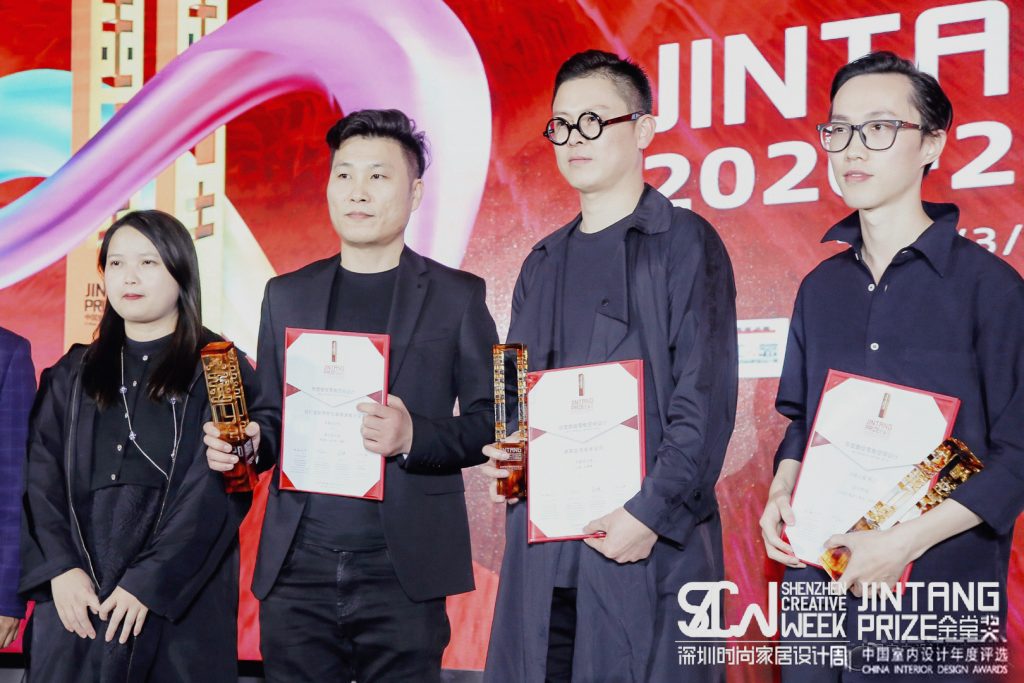 2021年3月20日晚,设计V纪元·金堂奖2020-2021年度品牌盛典之夜暨2020年度金堂奖最佳颁奖典礼,在深圳昌达国际酒店(深圳国际会展中心店)宴会厅盛大举行,在汇聚中国设计界精英的金堂奖舞台现场,正式揭晓2020年度金堂奖最佳设计成果。
Night of March 20, 2021, V design era, JTG award, 2020-2021 annual brand festival eve and the best for JTG for 2020 awards, chanda international hotel in shenzhen, shenzhen international exhibition center) store held a grand banquet hall, at the scene of the influx of Chinese design elite JTG award stage, officially announced the 2020 JTG design award for best results.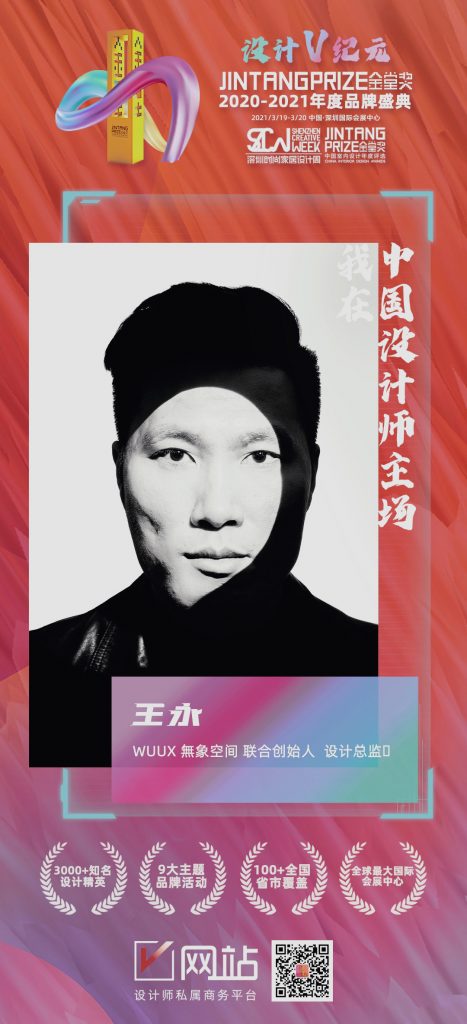 2020年金堂奖·中国室内设计年度评选中,共有4240件作品正式参评;经评选,共有500件作品脱颖而出,成为金堂奖2020年度杰出设计作品成果;最终经金堂奖全球十四位专业评委的认真评审,最终评选出33件作品荣膺2020年度金堂奖最佳设计,其中24件空间类最佳作品设计,9件软装类最佳作品设计。
金堂奖·中国是室内设计年度评选的最终成果发布舞台,也是金堂奖全国联盟与中国设计界大事件的展示舞台,更是中设计界精英们的大团圆节日。这些入选2020金堂奖中国室内设计年度评选的最佳作品,能够充分代表2020年度在空间类和软装类中,设计师在地产、酒店、住宅、休闲娱乐、商业零售、公共空间等项目中的最突出的成绩,每一件获奖作品都引领了当下与未来的趋势,是洞悉中国设计发展、中国品质生活发展与中国经济发展的一个风向标。
In the 2020 Jintang Award · China Interior Design Annual Selection, a total of 4,240 works were officially evaluated; After the selection, a total of 500 works stood out and became the Jintang Award 2020 Outstanding Design Works Achievements; In the end, 33 works were selected as the Best Design of the 2020 Jintang Award by fourteen professional judges from all over the world, among which 24 were the best design works of space category and 9 were the best design works of soft decoration category.
Jintang Award China is the stage for the release of the final results of the annual interior design selection. It is also the stage for the display of Jintang Award National Alliance and major events in China's design industry. It is also a happy festival for the elites in the design industry.These selected 2020 JTG award in China interior design annual list of best work, can fully represent the 2020 class in space and soft outfit class, designers in real estate, hotels, residential, leisure, entertainment, commercial retail, most prominent achievement in public space and so on, each winner has led to the present and future trends, is the insight into the development of Chinese design, the development of Chinese quality of life and a barometer of China's economic development.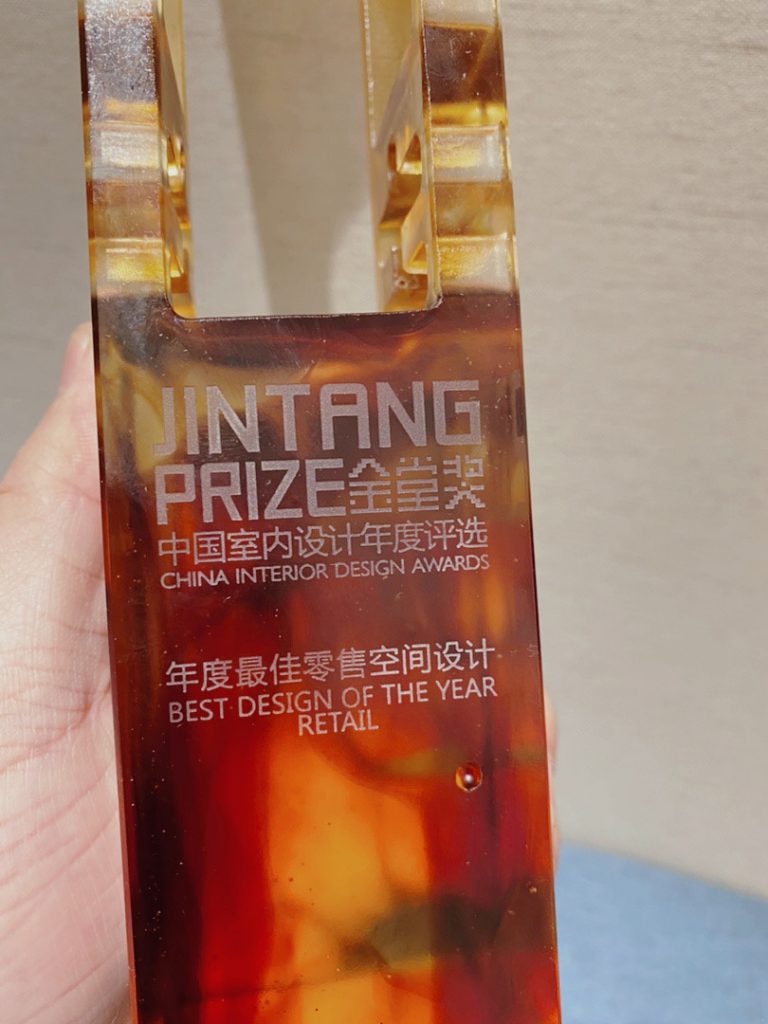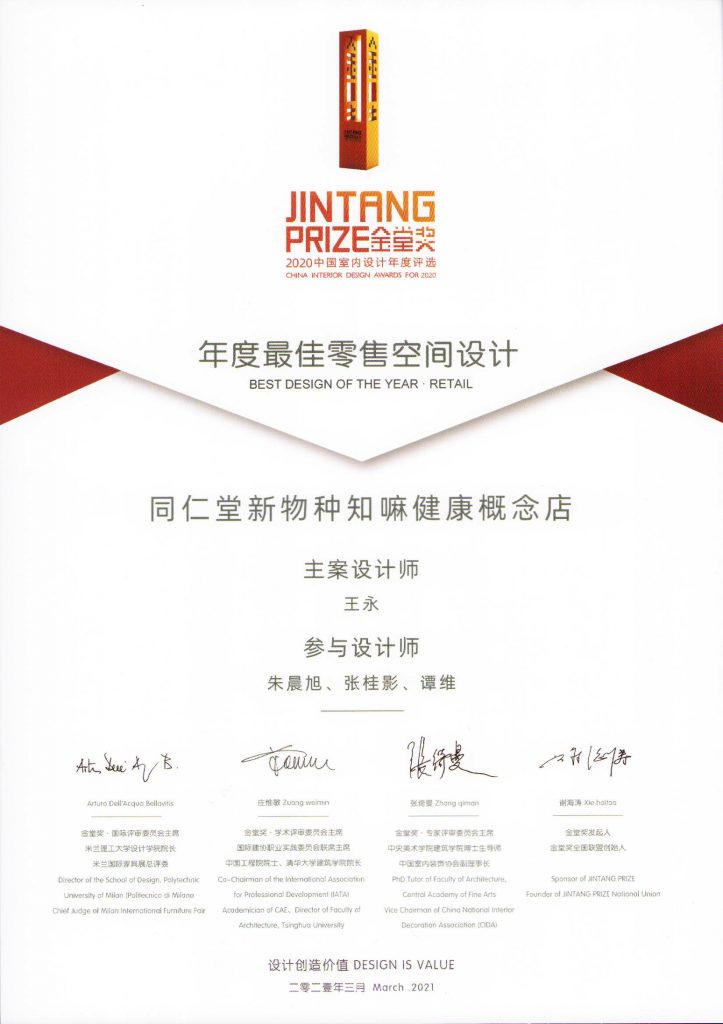 获奖项目:同仁堂新物种知嘛健康概念店-年度最佳零售空间设计
Award:Tongrentang New Species Zhimao Health Concept Store-Best retail space design of the year
文章链接:https://mp.weixin.qq.com/s/8QvEBSkoyzQU-wb6Q4JAvQ